As many of you are aware, I am a busy guy! Working a full-time job at a bank and running
Ken's Kreations
takes up a ton of my time. At the beginning of the year, I told myself I was not going to take on any more business adventures! And for the most part, I have stayed true to my new year's resolution. That was until I found my new obsession
Chalk Couture
. What is it? Why did I join? Let's just dive right in!
As I was saying,
Chalk Couture
is my new obsession. I feel in love with this product after watching a few of the videos found on the
Official YouTube Channel
. I had never seen something like this before and I knew I wanted to be on the forefront of this exciting new product! Here is the LIVE
YouTube Video
debuting
Chalk Couture
. After the video, we will take a closer look at this amazing new product, how your can purchase and even get a discount yourself.
Chalk Couture
is a versatile home decor product that produces amazing results! Create your own masterpiece, no matter what your crafting ability may be. Beautify your home and spice up your decorations! Have you ever went to Starbucks and wonder how they make their chalkboards look so amazing and professional. In an attempt to copy them, you head to your local craft store to buy your chalkboard, chalk markers, and stencils to only be left with disappointing results. Well, this is EXACTLY why I feel in love with this product!
Chalk Couture
is a system of products that allow you to decorate not only decorate professional chalkboards but really anything! How does it work? Well simple. Here is the process you will take to make your own amazing professional looking chalkboards!
1) Choose Your
Chalkboard
Now you can use ANY chalkboard as long as you prep your board using the
Chalkology Paste Wax
.
2) Choose Your
Chalk Transfer Design
We offer tons of different ways to decorate your
Chalkboard
for ANY occasion
3) Choose The Colors Of
Chalkology Paste
Use one of the multiple colors on your
Chalk Transfer Design
. You can even
Layer
your colors!!
4) Remove the
Chalk Transfer Design
5) Add Other
Fun Decorations Or Magnets
6) Step Back And Admire How Awesome You Are!
It truly is that simple! This is a product I have never seen before, and ANYONE can do this. I know some people think you will need to be a craft master, which is just not the case! If you want to take a peek at all the awesome product you can buy look no further!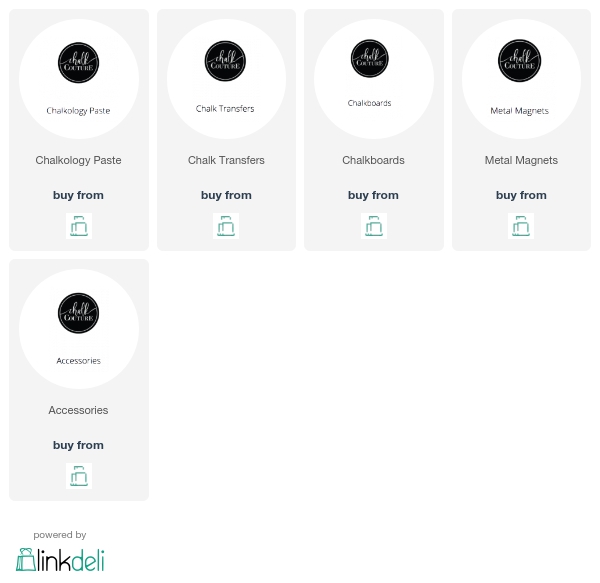 Now, of course, I could just purchase this product to make my life easier. However, for me, it was a better option to join. Why Join? Why add more to my plate? Simply put, 40% OFF PRODUCT. That is right! When you place your order you will always get a 40% off discount! Now, of course, this is encouraged for you to hold an inventory for trade shows, parties, etc. But at the end of the day, 40% off is a HUGE DISCOUNT. So when I saw this discount, mixed with the fact that I knew I was going to use it year round, all pointed for me to join.
At that time, the starter kit was a pretty big investment! However, things have changed and now you can
Join Chalk Couture
for just $99! Above you will see all the amazing product you will get in your starter kit!! Plus, on top of all of this awesomeness, you will also get a one-time 55% discount good to help jumpstart your inventory!! WOW!
Joining is easy! Click
HERE
or on the icon below
Now I already know all of you will be looking for more information on this product and how to use it! Make sure to reach out to me with any questions on this amazing product! I plan on releasing more videos and projects with
Chalk Couture
, so make sure you are subscribed to my
YouTube Channel
so you do not miss out on those videos. Until then I wanted to share the videos that made me fall in love with this product!