About a year ago I bought and reviewed the
Polaroid Zip
. At the time I bought this Bluetooth enabled printer since it was a special on
Prime Day On Amazon
. At first, I really enjoyed the printer and how fun it was at parties. However, this quickly fades when the Bluetooth continues to have problems connecting and the app became more complicated. So now my once fun
Polaroid Zip
now sits in the bottom of my junk drawer. Fast forward to today, where I am reviewing the
Prynt Pocket
. What makes this printer different? Why would I recommend this over the
Polaroid Zip
? Well in today's post we will discuss the answers to these questions and more!
When I was a kid, I never dreamt that I would be able to print photos in person without a photo kiosk. The one exception to this was for my friends who had expensive instant cameras. However, today most people are equipped with a camera in their pocket. Gone are the days of carrying around expensive SLR cameras, filters, lenses and a degree in photography! However, like most of you, I have a collection of photos on my camera, and limited ability to print these photos. God forbid something to happen to my iPhone without backing these photos up.
Due to this, we are noticing a rapid release rate of
Pocket Photo Printers
. Not all of these
Pocket Photo Printers
are created equal, and many of them rely on certain technologies for them to work, like Bluetooth. Today, we will take a closer look at the
Prynt Pocket
. In the video below we will take a closer look at the printer, show you how easy the set-up is, and of course take a few photos. Make sure to read on after the video review to get our in-depth look at the
Prynt Pocket
.
FIRST IMPRESSIONS
The
Prynt Pocket
spoke to me right away based on the fact that the printer did not connect to your phone via a Bluetooth. The
Prynt Pocket
actually clips into your phone via the lighting port. Once plugged into the iPhone, the
Prynt Pocket
is powered by the smart FREE application. Print photos directly from the device using
Zink Paper
, which is inkless.
The application gives the user the ability to edit photos, add filters, insert text and even bring your photos to life with a video feature! And of course, you will be able to share your masterpiece on social media!
Currently, the
Prynt Pocket
is only compatible with iPhones, however, the company is currently working on developing an android app.
THE DESIGN
The
Prynt Pocket
was obviously designed for function, not beauty. The camera was designed to fit nicely in your hand, hence the curved grip to the unit. The entire
Prynt Pocket
has a textured finished giving the user something easy to grip onto. Now, the
Zink Paper
cartridge slides into the top portion of the
Prynt Pocket
essentially turning the printer into a modern Polaroid. The clamp style mounting mechanism is clunky but very functional. This style allows for multiple sizes of phones to be easily mounted into the
Prynt Pocket
. Also depending on your phone size, we also liked the fact that we did not have to remove our case each time to connect our phone. However, our FAVORITE feature is not having to connect via the Bluetooth each time we wanted to print a photo.
Even though the
Prynt Pocket
is not fashion forward, the company realizes that some people want some style. Currently, the
Prynt Pocket
comes in 4 colors on
Amazon
,
Graphite
,
Cool Grey
,
Lavender
and
Mint Green
.
USAGE & PRINTING
The
Prynt Pocket
is pretty straight forward. Connect your phone, customize your photo and print. You can even add a video, which we will chat about later in the post.
Like many pocket printers, the
Prynt Pocket
utilizes
Zink Paper
. Essentially
Zink Paper
stands for zero ink. In a nut shell, these paper does not utilize ink, toner or other material. However,
Zink Paper
relies on a chemical reaction to print your photos. They dry instantly and can be handled by the user. Now, with most
Zink Printers
the
Prynt Pocket
produces 2X3 size photos that feature a sticker back. As I said in the
Polaroid Zip
review, my biggest criticism of
Zink Paper
is the cost, as each photo costs around .50.
Let's also discuss the fact that the
Prynt Pocket
produces photos that do not look over-exposed. I always felt the
Polaroid Zip
photos were over-saturated. It almost appeared that each photo had the "Vibrant" filter turned on. It never matched what I was editing on my phone. The
Prynt Pocket
produces much more accurate colors and tones.
ADD A VIDEO
I will admit I had no idea about this last feature, or why I would want it. However, now that I have actually experienced it I have to say I pretty much am addicted to it. So how does it work? When you select a photo for printing, you have the option to add a video. In my
YouTube
review video, I selected a photo of my dog and tied it to the dog licking the water from the hose. Now, once you print the photo, you might wonder how the video comes to life.
Essentially while you are in the
Prynt App
, all you will have to do is to point the camera at your printed photo, and then the magic appears! Instead of your photo, you will see a movie in its place. From the phone display, it looks as if you printed a video, which is pretty cool! Here look for yourself:
FINAL VERDICT
For me, this product is a win just for the fact that I do not have to rely on Bluetooth technology to print my photos. Out of all the
Pocket Photo Printers
that I have reviewed the
Prynt Pocket
is easy to use and fun to interact with. Now, keep in mind this is being promoted as a case for your iPhone, which I highly disagree. This is not something that I would see myself walking around with attached to my phone, however, I do see myself having it available to share fun photos with my friends!
It is not also for everyone, as many people will want bigger, more professional photos than the
Prynt Pocket
can produce. Still, I feel the company set out to make a fun printer that would be easy to use and fun to share! With that,
Prynt Pocket
scored a HOMERUN!
During today's review, I compared the
Prynt Pocket
to the
Polaroid Zip
on more than one occasion. To watch my review of the
Polaroid Zip
, please
Click Here
All of the items we talked about in this post are right here. If you use these links from the shopping list Ken's Kreations gets a small commission, which makes you a ROCK STAR!!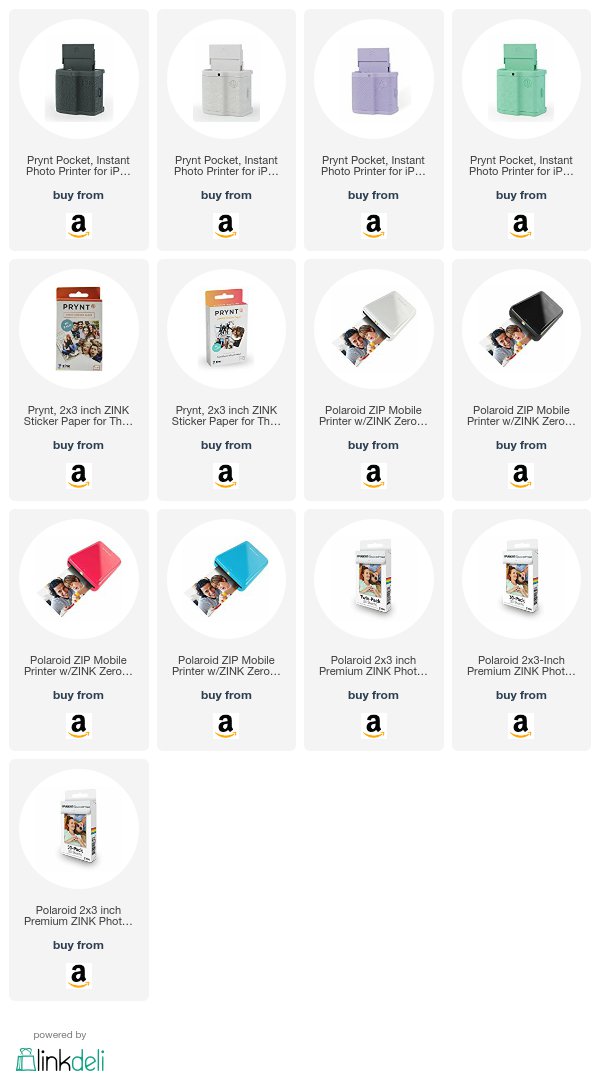 This post may contain affiliate links. If you purchase a product using the link I may receive a commission at no cost to you. I only participate in affiliate programs for products that I use or can recommend. Thanks for supporting Ken's Kreations