I am so excited to share a
Chalk Couture
project I created for a contest during the Couture Tour in Seattle, WA. This project using many different
Chalk Couture
Surfaces
to create an amazing home decor piece! Today, I will walk you through how to make this amazing piece!
So this piece looks really complicated, however, it is pretty quick to make. Below you will find the video tutorial on how I created this project, the supplies I used and how you can create your own home decor piece!
SUPPLIES NEEDED: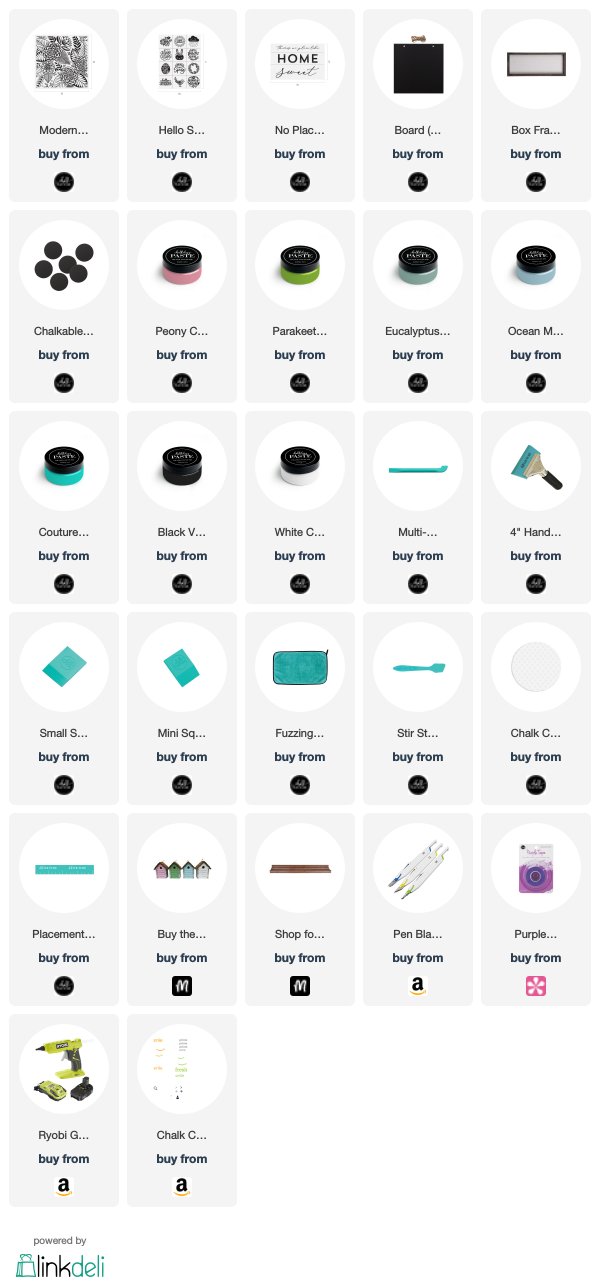 So once you have the supplies, we can get going on the project. I have a step-by-step
YouTube
on how to complete this project. Now we started this project at my studio in the house, but quickly realized it would not fit into the luggage. So, we had to finish the project in our hotel room. Anyways, check out the video below:
How amazing is this! I just love how this project turned out! Let's take a closer look at some of the details on this amazing home decor piece!
If you like this project you might like to see more! Check out this video playlist on
YouTube
so you can see all of my
Chalk Couture
creations! Plus keep scrolling down to see how you can experience the magic of
Chalk Couture
yourself.
I am truly a HUGE fan of
Chalk Couture
! Not only can you create beautiful pieces to SELL, but you can also make an income while doing it! When I first discovered
Chalk Couture
my mind was BLOWN! Not only can you create beautiful pieces, but literally ANYONE can do it! This IS NOT just for crafters!
Chalk Couture
offers a FRESH NEW way to make amazing home decor! From our surfaces to our chalkology paste and transfers that give you the WOW factor! Everyone I share this product with is left saying "WOW". Just look at it! It is truly amazing:
Now you can experience
Chalk Couture
three different ways!
Shop My Chalk Couture Site
,
Join Chalk Couture On My Team
or
Subscribe To Club Couture
. To help you understand the difference between each one, let's take a closer look:
Welcome to the fastest growing concept in DIY home decor, where your design possibilities are as easy as they are unlimited! Pursue our new, exclusive, hand-picked products that will gratify and satisfy your creativity! Once you use this product, you will be ADDICTED! At
Chalk Couture
, we release a
New Catalog
every three months! This way our customers always have the hottest, trendiest and on point, designs to use in your homes!
Are you interested in becoming a
Chalk Couture Designer?
Designers are what we call our
Independent Consultants
. So what does it mean to join? Why would you? Well, you get an opportunity to earn some extra money or even replace your FULL-TIME INCOME! Plus you can earn incentive trips, get a 40% discount on your products, and/or even earn FREE products every month! Upon hearing these benefits and seeing the low quarterly minimums ($150 minimum quarterly) I was intrigued. I had long been frustrated with cutting items out in vinyl on my Cricut. Cut the items on the machine, weed the design, transfer and pray that it ends up being straight! So upon seeing
Chalk Couture
as a solution, I instantly joined! I now am working from home FULL-TIME with a team of three people, and I am LOVING every minute! So why should you join? Let me introduce you to the CEO of
Chalk Couture
:
Join Chalk Couture On My Team
What's In The Starter Kit?
Who We Are
Benefits Of Joining
Want To Join, But Live In Canada?
Are you asking yourself these questions? Am I ready to
Join
Chalk Couture
? Can I meet the
Requirements
of being a designer? Can I afford to
Shop
for all the items I need to finish a project? If you are asking these questions you might be better suited for our brand new subscription program called
Club Couture
.
We're offering nonstop inspiration—are you in? Join Club Couture™ for creativity delivered right to your door every month! What is Club Couture?
Click here for more information!
With this subscription program, you will get an exclusive B-sized Chalk Transfer™ designed to be on trend, in season, and available ONLY through Club Couture, PLUS three coordinating Paste Singles and step-by-step instructions—everything you need to create a darling finished project. You also get access to my EXCLUSIVE facebook club page where I offer monthly discounts and sneak peeks.
Club Couture is just $19.99 per month plus FREE shipping. Sign up for an initial 3-month commitment (you will not be billed today, you will be billed on the 5th of next month) and after that, you will be billed month-to-month.
Once you click subscribe, you'll see two additional purchase options appear below, but these add-ons are only available when you initially enroll in Club Couture™, so don't miss this! Here is a video on more information:
I have listed all of the supplies I used to make this
Chalk Couture
project down below. Please use the links below to shop and by doing so you will be helping support Ken's Kreations!! Did you know you can support Ken's Kreations by SHOPPING!
Remember caring is sharing and I would love for you to share this post. Don't forget you can support
Ken's Kreations
by shopping through any of the links on this page or following my social media channels.
CLICK ON THE LOGO TO FOLLOW: