Many of you followed me on my journey at this years Creativation in Phoneix, Arizona. While I was at the event, I share many
Live YouTube Videos
with all of you. One of the MOST requested follow up videos has been in regards to the
Cutterpillar Glow Board
. I have waited 6 months to finally get this and my
Cutterpillar Pro
and I could not wait to share my first look with you!
Now, many of you know that the
Cutterpillar Pro
has been out for a little bit of time. I never invested in this item since I had heard some bad feedback from the initial users. When I was at the booth at Creativation I brought this up with the owner and was impressed to hear him say that those complaints were right! And he was committed to doing anything he needed to do to make them right. Based on this alone I bought the
Cutterpillar Pro
,
Cutterpillar Glow Board
and
Totes
to try them out! Once I received them I wanted to debut them on a LIVE video so I could answer questions LIVE that you all had! Below you will find the videos. However, past these videos, you will find some more detailed information on these amazing products!
Remember this was a
LIVE YouTube
video. A couple of things to remember is that during the live feed I answered questions from viewers as I walked through the process. We try to state the question before answering it. This is a MUCH longer video than most of my other videos due to the LIVE nature and NO EDITING.
So I know that was a long video with a lot of information in it. So let's try to get through some of the static and take a closer look at these amazing products!
Here is What I found I liked about this cutter:
Precision paper and photo trimmer have a gear driven rotary blade for perfect cuts through almost any stock.

Bright LED backlight illuminates the cutting line for completely accurate trimming.

Integrated ruler measures in both imperial (US) and metric units. Accommodates paper up to 12 inches wide. Ruler measures up to 17 inches long.

New ABS composite construction is deceptively strong, yet light. Soft rubber feet give stability and prevent slipping.

Built in 12" storage drawer for keeping extra paper and supplies. Requires 4 AA batteries, not included.
Now, as with anything I have some pros and cons. The pros are the amazing cutting results that I achieve on this cutter. In the video you were shown how intricate of a cut it can make, and without shredding your paper. The cutting arm is easy to move and does not require any force and the cutter is very sturdy and durable. I personally do not see myself using the LED light or storage tray, however, they are nice features!
The cons for me are pretty obvious. The price point is currently at $99, making this an expensive cutter. However, it is right in line for other rotary cutters like the
Fiskars Procision Rotary Bypass Trimmer, 12-Inch
. This is also a fairly large cutter and will take up valuable storage space for many crafters. The last thing I wish the
Cutterpillar Pro
had was basic " A Card Sizes" measurements built into the trimmer. This is one of the features that I love on the
Fun Stampers Journey Trimmer
.
Overall, however, I would say this is my favorite current cutter I own due to the precision and accuracy of the cut I am getting without any torn or shredded edges.
BUY CUTTERPILLAR PRO HERE
If the price is a deterrent from this amazing cutter you might want to check out the
Crop
version of this trimmer that is able to be transported very easily!
CLICK HERE TO VIEW THE CROP VERSION
First of all, I already know what you are asking. Why do I need this? What could it possibly do? Before I dive into what I think of this, let me show you what this thing can do:
Now that you have some ideas, let's see what the
Premium Version Glow Board
offers:
The Glow Premium is a beautifully illuminated light board for all your crafting projects, this advanced LED technology offers crafters, artists, and creators alike a new way see and engage with a project. This brilliantly-lit work surface illuminates your medium with 3 different levels of light. The Glow comes with a non-slip, self-healing cutting mat that lets the light shine through
your project and it includes an internal lithium-ion battery to give you hours of cord-free light. When you need light for your project without the hassle of outlets and cords, Glow Premium is the light table for you!
So I am in love with this item after I took it out of the box and saw the brightness. This tool can be used for so many things, the limit is endless. This thing has 3 different light settings, is less than 3 pounds and offers rechargeable battery so you can create anywhere. The only con I have is the price since this thing comes in at over $100.
Plus I was able to find an amazing crafter who has made some impressive templates to use with your board! Check out his posts here and download the FREE templates:
GENTLEMAN CRAFTER LINKS
Now both
Glow Boards
come with a self-healing mat, but the company has already announced that they will be releasing additional products for the
Glow Boards
which include
Glass Cutting Mat
and even a scoreboard in the future! Take a look at the glass board:
Well I hope you enjoyed this review and first look at these new
Cutterpillar Pro
products!
I have listed all of the products we talked about in today's review down below in the shopping list. Please use the links below to shop and by doing so you will be helping support Ken's Kreations!! Did you know you can support Ken's Kreations by SHOPPING!
Remember caring is sharing and I would love for you to share this post. Don't forget you can support
Ken's Kreations
by shopping through any of the links on this page or following my social media channels.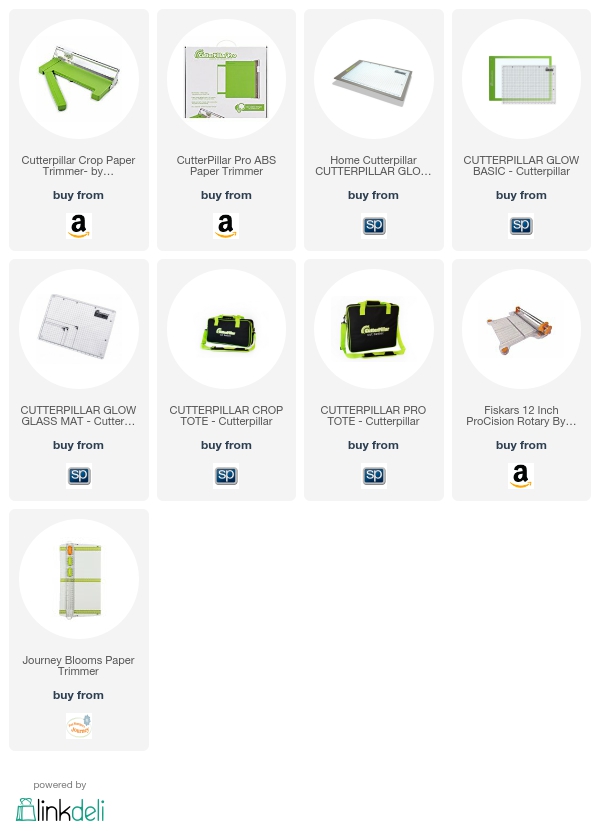 This post may contain affiliate links. If you purchase a product using the link I may receive a commission at no cost to you. I only participate in affiliate programs for products that I use or can recommend. Thanks for supporting Ken's Kreations