So for this card, I used a wide variety of some of my favorite products. And while I did not film a
LIVE
video showing my process, I do have a video on the basic concept I will share with you later in the post. For this card, it is essential that you have some type of craft mat. I prefer and recommend the
Ken Oliver Best Ever Craft Mat (XL)
as this has been the best craft mat that I have personally used. If you follow me on
YouTube
you will have noticed the grey mat that bases all my projects, which is the
Ken Oliver Best Ever Craft Mat (XL)
. Why is this mat so important? Well, the technique I used on these cards will require some sort of mat.
The best way to show the technique is to share a video that I did make
LIVE
with the same technique. The video shows the technique in the first few minutes of the video, so you do not have to go far into the video.
So let's take a peek at the video on how I made this card and the supplies I used.
Remember this was a
LIVE YouTube
video. A couple of things to remember is that during the live feed I answered questions from viewers as I walked through the entire process. We try to state the question before answering it. This is a MUCH longer video than most of my other videos due to the LIVE nature and NO EDITING.
Now that we have the background down, we can take a peek at the rest of the quick steps to finish this card. Using
Bristol Paper
, run the
Journey Circle Die
through the
Cuttlebug
. I use the
Magnetic Cutting Mat
with the die and paper sandwiched between two
B-Plates
. Once this has been cut we can turn out attention to the stamping on the card. I prefer to use the
Tim Holtz Stamp Platform
when using my stamps. For this card I used the
You Are ATS Stamp Set
from
Fun Stampers Journey
. I inked the stamp up with some
Black Licorice Ink
and splashed it randomly with some
Color Silks
. Let this dry. Finish the card with some
Natural Twine
peeking out behind the sentiment. I wrap the twin up around my four fingers and hold it in place using washi tape. Use some
Foam Squares
to assist holding the twine in place while popping out the sentiment from the card.
I have listed all of the supplies I used to make this card down below. Please use the links below to shop and by doing so you will be helping support Ken's Kreations!! Did you know you can support Ken's Kreations by SHOPPING!
Remember caring is sharing and I would love for you to share this post. Don't forget you can support
Ken's Kreations
by shopping through any of the links on this page or following my social media channels.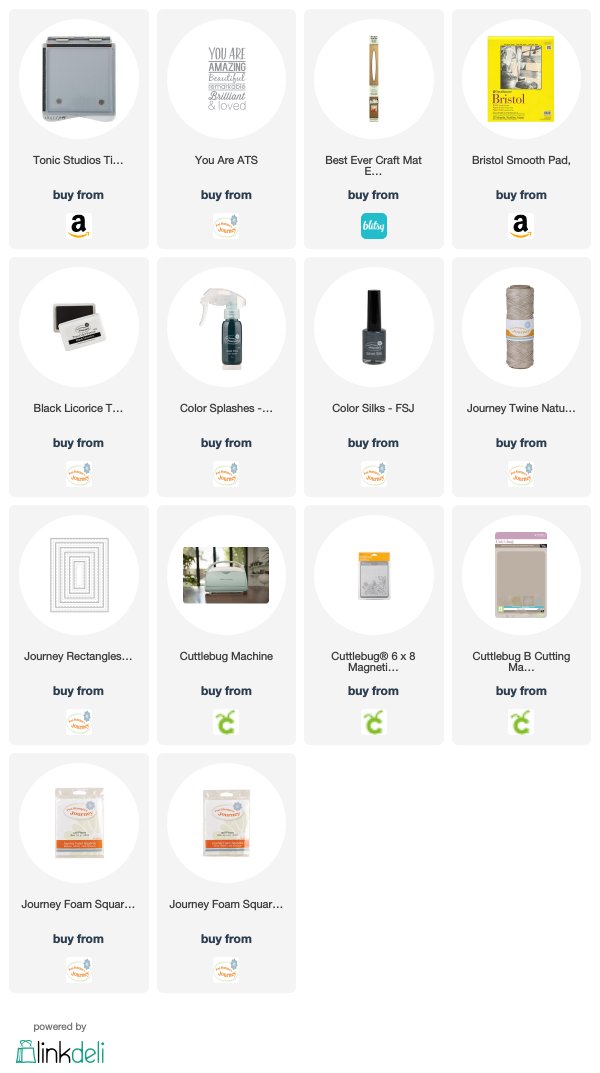 This post may contain affiliate links. If you purchase a product using the link I may receive a commission at no cost to you. I only participate in affiliate programs for products that I use or can recommend. Thanks for supporting Ken's Kreations