In the past year, I have seen a lot of interest in the craft industry in
LED Light Pads
. This technology has been around for some time, but it is making its way into the crafting world. While I was at the 2017 Creativation, I feel in love with the
Cutterpillar Glow
. Now
Cricut
has released their own version this called the
BrightPad
. So what are my thoughts on this new technology? How does it work? Do I recommend it? All of this in today's blog post!
When Cricut announced they were developing a
BrightPad
I was very intrigued. Cricut officially released the
BrightPad
and
Weeding Tool Set
at the same time as a solution for the
Vinyl
and
Iron-On
customers who have a tough time weeding. Let me just say that the
Weeding Tool Set
was an instant hit, however, people shied away from the
BrightPad
. This was due to many reasons, but the cost was the reason I kept noticing on social media. Due to this, I could not wait to get my hands on one and offer a LIVE unboxing and first-time use! Join us in this video as we take a peek at this. Keep in mind we recorded this
LIVE
, thus it is a little bit longer and unedited. We tried to answer questions as they were brought up in the video. Check out some points after the video and the shopping list down below!
Now you can hear in my reaction in the video I was impressed with this device! As with the latest releases, it appears that
Cricut
has put their time and research in on the
BrightPad
. This shows with not only the packaging but also the actual device!
Now in the video, I demonstrated how the
BrightPad
can be used with
Vinyl
,
Iron-On
,
100LB Bristol Paper
and even
140LB Watercolor Paper
. In fact, this was one of the reasons I feel in love with the
BrightPad
. Not only could I use it for
Weeding
. I could also see me using this for stamping, coloring, tracing and paper piecing! And with the BRIGHT 5 light settings, it was able to see through all of these materials! One of my favorite things that I use this for is with grids! I found an amazing blog that features FREE grids to use with any
LED Light Pads
. This way you are able to line items up and stamp perfectly make sure to check out this blog to get your FREE grid downloads!
Gentleman Crafter (Creator Of Grids)
Part One:
https://goo.gl/vHF3Fz
Part Two:
https://goo.gl/8K4dDi
Here are some of the main points I liked:
PROS of the BrightPad
Bright uniform LED Light
5 Brightness Settings (400, 1300, 2200, 3100, and 4000 Lumens)
Lightweight. It feels one pound or less
Scratch Resistance.
6H Hardness level (
What Is Hardness Level? Click Here
)
Non-Slip Base
6 Foot Cord
CONS of the BrightPad
9X11 Inch Light Area (Actually could be a PRO for some people)
6 Foot Cord (NOT RECHARGEABLE)
Cost (79.99)
I wanted to address a few of these. The size of the
BrightPad
will be a personal preference. For me, it is a perfect size and actually larger than most in the industry. But for some, they want a bigger option that is offered with the
Cutterpillar Glow
. The cord is 6 feet but is not rechargeable. This is not a huge issue for me since I can use an
External Battery
, like the one I showed in the video. Now the biggest complaint I have heard is the cost. Many people argue you can get a cheaper version on Amazon like the ones seen
HERE
. My only concern is the companies and how much time and research went into their product. I can tell you just by using my
BrightPad
a few days it is built sturdy. Plus many of the
LED Light Pads
do not have the 6H Hardness level or the customer service that comes with
Cricut
!
Now as with all of the new fun toys
Cricut
is releasing, you can see the
BrightPad
can be bought in colors to match your other crafting tools. Here is where to buy these:
Mint:
CLICK HERE TO BUY MINT
Rose:
CLICK HERE TO BUY ROSE
ALL Colors:
CLICK HERE TO SEE ALL COLORS
Now at this moment, these are in HOT demand, so make sure to keep checking the links above for your favorite
BrightPad
! Once it is available again, I would not wait to get yours! Well, I hope you enjoyed today's post! If you still have some more questions or would like to research the
BrightPad
check out this helpful links:
What Is The BrightPad?
BrightPad Tips & Tricks
BrightPad Care & Troubleshooting
BrightPad Handbook & Warranty
I am currently lucky enough to give one of these away to one lucky person. Make sure you enter below:
a Rafflecopter giveaway
Well, I hope you enjoyed today's look at the
BrightPad
. Remember to LIKE and SHARE this post on your favorite social media platform! All of the items we talked about in this post are right here:
As an Amazon Associate, I earn from qualifying purchases.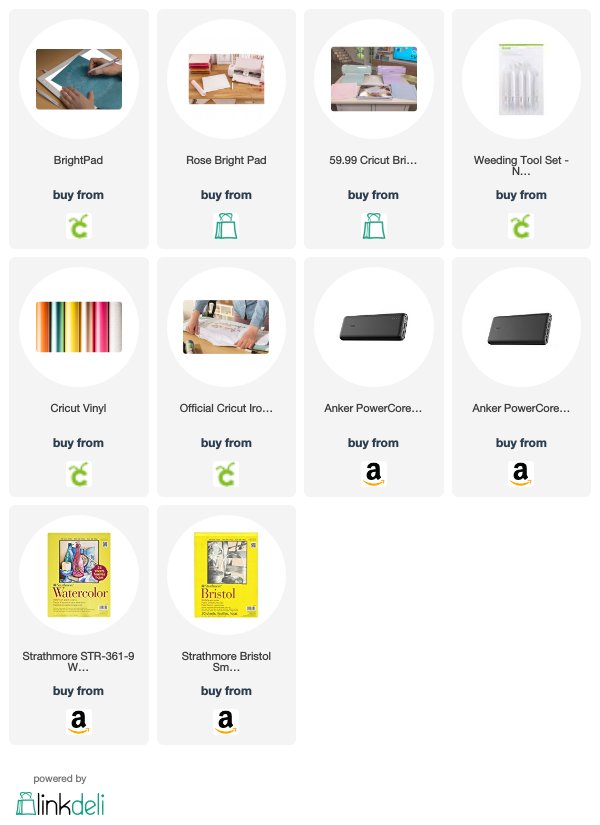 This post may contain affiliate links. If you purchase a product using the link I may receive a commission at no cost to you. I only participate in affiliate programs for products that I use or can recommend. Thanks for supporting Ken's Kreations.
As an Amazon Associate, I earn from qualifying purchases.